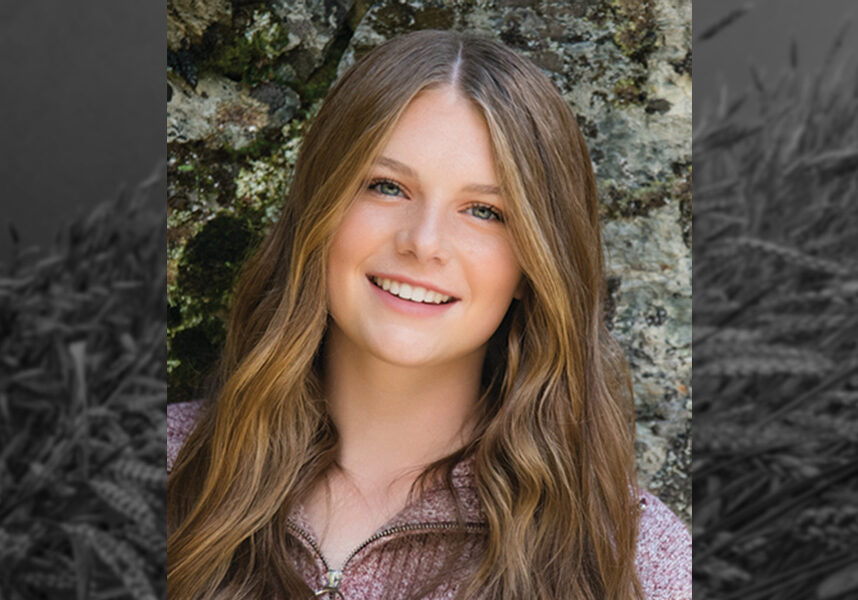 Farming has always played an important role in my life, considering I am the fifth generation being raised and working on my family's farm near Davenport. Growing up on a farm has taught me many valuable life lessons, such as having a strong work ethic, time management and responsibility. Also, growing up in a rural area has influenced me to pursue a degree in nursing while focusing on rural healthcare.
My first time in a combine I was only four days old. I've grown up watching my dad work long hours, year round on the farm to provide for our family, and it was very inspirational. By the time I was 7, I was riding in tractors, combines and trucks anytime I got the chance. At 14, I started driving tractors with my dad in the cab with me. By 15, I was driving a tractor for up to 12 hours a day and driving a truck during harvest with my AG permit. Since then, I have been working even longer days whenever I can. Even before school, I will go out and help get equipment ready for my dad.
My grandfather owns and operates a farm in Montana. My first time driving a tractor was with him, and it was such an amazing experience. I was able to spend quality time with him while making memories and learning important skills. Over the past year and a half, though, my grandpa has been fighting an infection with no known cause. He has had many doctor appointments to try to figure this awful sickness out, but he has struggled with balancing these appointments while also farming. Fortunately, the health care professionals at the local clinic were able to help my grandpa by letting him do at-home treatments. I even got to personally help my grandpa by administering his IV antibiotics. I would flush the PICC line with saline and hook up the IV to antibiotics. After the treatment was complete, I would then flush out the line with saline and heparin. Witnessing these amazing doctors and nurses support my grandpa and his farming while gaining hands-on experience inspired me to pursue a degree in nursing with a focus on rural healthcare.
While many industries are shifting focus from the American dream in agriculture to big cities, such as tech-related fields, there are many challenges. Even though my grandpa was able to receive medical care despite his rural location, that's not the case for many places. Loss of healthcare in many areas threatens my generation's role in agriculture. From the decline in family farms to the skyrocketing prices of crop inputs, the future of ag is going to be very challenging. By shifting the focus of work and major industries towards big cities, many people don't realize the massive negative impacts on agriculture. There is a lack of labor on farms, making it nearly impossible to keep family farms running. And with the current economic situation, such as input prices rapidly rising, many more small farms are going to go under due to the increased expenses. With these challenges facing my generation's role in rural agricultural communities, there needs to be a change if we want the world to continue having reliable food sources.
Becoming a wheat ambassador for the Washington Association of Wheat Growers has helped me communicate and stress the importance of agriculture to lawmakers. The farmers, ranchers and community members in rural areas understand the situations facing agriculture, such as drought and the government not hearing our concerns. Being able to visit Olympia this winter was an incredible opportunity for me to express my concerns with legislators. This trip was an eye-opening experience because I was able to see how lawmakers interact with problems and try to address the public on said issues. Also, I learned to communicate agricultural concerns effectively with legislators, and I truly believe that they understood our concerns. Being an ambassador has changed my perspective on the business side of agriculture and let me communicate challenges facing the 28,800 family farms in Washington.
Farming has shaped my future career, even if it doesn't seem to directly relate to the agricultural industry. This fall, I will attend Carroll College in Helena, Mont., as a student in the direct entry nursing program, where I will earn a bachelors of science in nursing. By becoming a registered nurse, I will be able to give back to my community and others by focusing on healthcare in rural areas.