'Dam' critical: Legislators tour Ice Harbor facility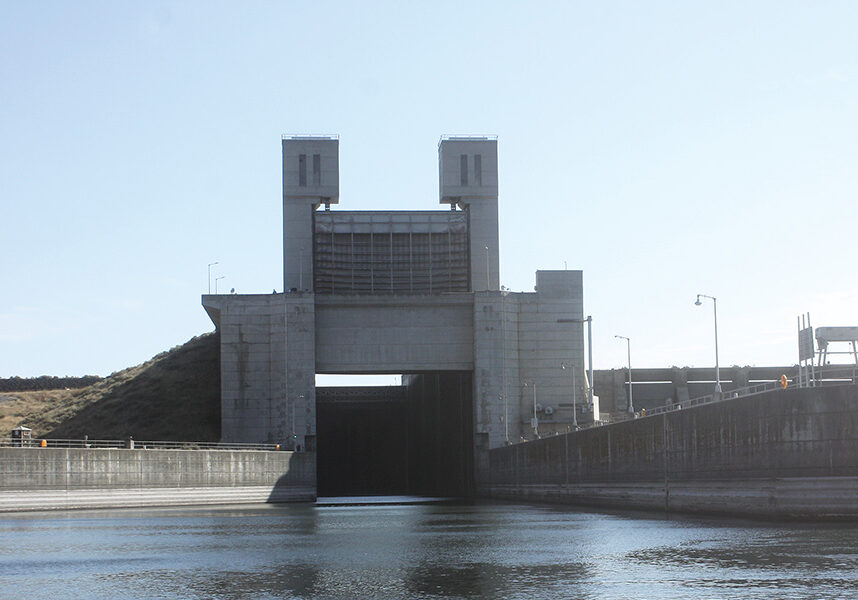 In September, agricultural stakeholders joined state legislators on a tour of Ice Harbor Dam to talk about why the lower Snake River dams are a critical part of the state's transportation and utility infrastructure.
The Washington Association of Wheat Growers was one of the sponsors of the tour.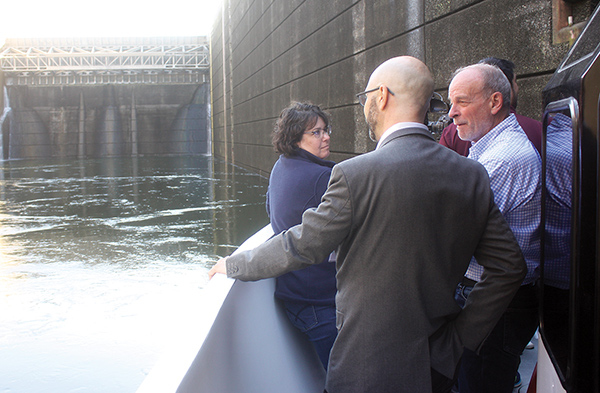 During the boat ride up the Snake River, tour participants heard from:
Kurt Miller, executive director of Northwest River Partners. Miller talked about the important role the lower Snake River dams play in balancing the Pacific Northwest's power grid amid legislative policies that would shift the region away from coal and natural gas to solar and wind. He pointed out that wind is not a "capacity resource," meaning it can't provide power on demand like the dams can.
Rick Dunn, general manager of Benton PUD. Dunn also spoke about capacity vs. demand, explaining that the electrical system has to be balanced moment to moment, and the consequences of not being able to balance it are blackouts. He discussed how California has begun to move more to wind and solar, which is not only more expensive for customers, but that they are "struggling to meet demand."
Chris Peery, district senior fish biologist with the U.S. Army Corps of Engineers (Corps). Peery addressed the fish side of the issue. From 2000-2015, a record number of salmon returned to the river system. In 2016, that number dropped, but now it's picking up again. He acknowledged that the size and age of salmon who return to the river system are dropping, but said no single factor has been found. However, data from the National Oceanic and Atmospheric Administration has established a direct correlation between ocean conditions and salmon numbers.
Bill Dull, Corps lead electrical engineer. Dull explained that Ice Harbor Dam is a test bed for new turbine design to help increase fish survival rates.
Tom Kammerzell, commissioner with the Port of Whitman County and a wheat grower. Kammerzell's message was simple. "Dam removal would be a death blow to agriculture and our state economy," he told the audience. Wheat contributes more than a billion dollars to the region's economy, and the reliability of the region's transportation system, specifically barging, is a big reason why. He explained that an exporter can call for a barge and get it in three to five days, while a rail car can take three to five weeks, costs more and is responsible for more carbon emissions than barges.
Katie Nelson, manager at Kamiak Vineyards and Gordon Estate Winery. Nelson's family farms just above Ice Harbor Dam and relies on the river system for irrigation. Removing the dams would lower the area's water table and make irrigation less reliable. "Even one year without reliable irrigation would devastate our farm," she said.
Kristin Meira, Pacific Northwest director of government affairs for American Cruise Lines. American Cruise Lines currently runs four cruise vessels — basically floating hotels — on the Columbia-Snake River System with plans to add several more in the next few years. They run from Astoria to Clarkston, which wouldn't be possible without the dams, and provide millions in tourist dollars to the region. Meira said surveys show that customers wouldn't be interested in only cruising on the Columbia River. "The Snake River is absolutely critical to our operations," she said.
Once through the navigation lock, tour participants toured Ice Harbor Dam before boarding a bus back to Richland.