'Man of action' takes on new role as PNWA president
Tom Kammerzell, Commissioner, Port of Whitman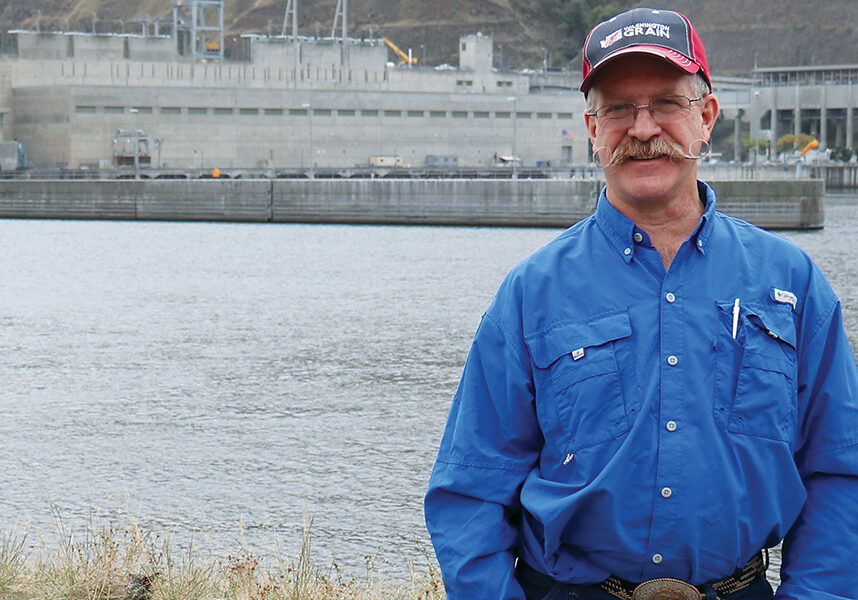 Tom Kammerzell is a man of action who wears many hats. He approaches issues and projects by conducting thorough research and then instituting a plan to achieve specific goals.
"If you aren't playing offense, you are always going to be on defense, in a reactive mode," he explained. 
Kammerzell was raised in a homestead farm family. His great-great-grandfather first started their farming heritage in the Farmington area in 1885. Kammerzell now lives on the segment of the family farm acquired in 1936 near Wilcox, Wash., southwest of Colfax. He and his wife, Cheryl, keep extremely busy operating Maple K Farms, LLC. Along with caring for their herd of Scottish Highland cattle, they are landlords for three wheat farms leased out to farm operators they trust to properly care for the land and produce high-yielding crops.
"I believe in entrusting work to the experts in their respective fields," Kammerzell said. "We have three excellent farm operators, and in today's agricultural industry, that is especially important."
Kammerzell didn't plan to farm when he graduated from Colfax High School, and he took a circuitous route to get to where he is today. He first studied architectural drafting at Spokane Community College. Before completing that degree, he decided he could not spend his working career sitting behind a desk. He worked at a local florist shop in Colfax before managing it. Then he moved on to work for the Colfax Grange Supply for a time. Working on a farm and cattle ranch was next, during the early 1980s. He then received an offer to manage a 2,500-head cattle feedlot in Salina, Kan. He accepted and worked there for nearly two years. Deciding to come back home, Kammerzell worked for a local farmer briefly before accepting the maintenance manager position for the Colfax School District where he stayed for 24 years. Those employments don't begin to cover all the activities and organizations that Kammerzell has been involved with.
Kammerzell was the youngest member to ever serve on the Colfax City Council, serving for seven years beginning in 1987. He served on the Whitman County Conservation Board for seven years. He has served as a trustee of the Whitman County Historical Society. He served for three years as the president of the Educational Support Group of the Washington Education Association, a job that Kammerzell said did more to develop his communication skills than any other position he has held. 
Kammerzell currently serves as one of only three ag industry members on the Farmland Preservation Committee for the Washington State Recreation and Conservation Office. He has served as commissioner of District 3 on the Port of Whitman Board since 2012. He is proud of the Port's accomplishments over the past decade, including millions of dollars of improvements and renovations made to the various port properties, including Boyer Park Marina near Lower Granite Dam on the Snake River.
"Most people don't realize there are 150 ports nationwide, and fully half of them, 75 ports, are located in Washington state," he said.  
The Port of Whitman is a huge economic force in the Palouse. Port operations help support over 5,360 jobs, which equals 20% of all the jobs in Whitman County. The Port's total economic contributions generate $1.35 billion in county sales transactions and add $548 million in gross regional product.
The Port of Whitman has six major properties: the Port of Wilma, the Port of Almota, Boyer Park and Marina, the Port of Central Ferry, Pullman Industrial Park, and the Port of Whitman Business Air Center (at the Colfax Airport). Several of these properties are already at full capacity, with warehouses, grain shipping facilities and other agricultural and industrial business tenants. 
Kammerzell is a strong advocate of conservation practices on his farms and statewide. He is a seasoned veteran of meeting with legislators and agency personnel in Olympia and Washington, D.C. He will be even more heavily involved in lobbying for the ag industry and the Snake River dams after being recently elected president of the Pacific Northwest Waterways Association (PNWA). He succeeds Glen Squires, who is also retiring as the director of the Washington Grain Commission. PNWA is a nonprofit, nonpartisan association of ports, businesses, public agencies and individuals who support navigation, energy, trade and economic development throughout the region. The PNWA is comprised of over 150 members.
"Unfortunately, the question of breaching the dams has become an emotional issue instead of being judged on a scientific basis," Kammerzell said. "Rarely acknowledged is that many rivers without dams have reduced salmon return numbers. There is plenty of scientific evidence that points to ocean conditions as a primary cause of reduced salmon populations.
"The Snake River dams, owned and operated by the U.S. Army Corps of Engineers, were designed from the beginning to allow salmon passage, and they have been improved continually over the decades. It's not like nothing has been accomplished. There has been around $17 billion spent on salmon habitat and fish passage efforts over the decades. Over $50 million was recently spent on Lower Granite Dam alone to improve fish passage rates. Now, only an estimated three to four percent of the fish ever actually pass through the dam turbines.
"The benefits of the Snake River dams are often ignored or minimized. They produce enough clean, inexpensive hydropower to provide energy for 1.8 million average homes. If the four lower Snake River dams were removed and the power generation replaced with efficient natural gas, it would increase the region's annual carbon dioxide emissions by between 2 and 2.5 million metric tons."
Kammerzell noted that over 85% of Washington wheat is exported, most of that on the Columbia-Snake River System. Barging grain is 40% more fuel-efficient than rail cars and 270% more efficient than semitruck transport.
"Many farmers and other Eastern Washington residents have asked me what they can do to help save our dams. I tell them to vote! It costs you nothing to vote, but if you don't vote, it can cost you everything," he said.
Additionally, Kammerzell also believes agriculture needs to do a better job of telling its story to legislators and to urban neighbors. He feels if the ag industry doesn't effectively and accurately portray its message, people will stay uninformed.
"If you think you can make a difference, you need to help provide answers," said Kammerzell. "Just complaining doesn't solve problems unless you help provide solutions."
Kammerzell is excited about serving as president of the PNWA. 
"The PNWA has an excellent reputation here in the PNW and in Washington, D.C., and we plan to carry that momentum forward into the future."
Kammerzell can be reached at tomkammerzell@gmail.com.