Riparian buffers coming to watershed
Program will pay producers to swap crops along Hangman Creek with trees, shrubs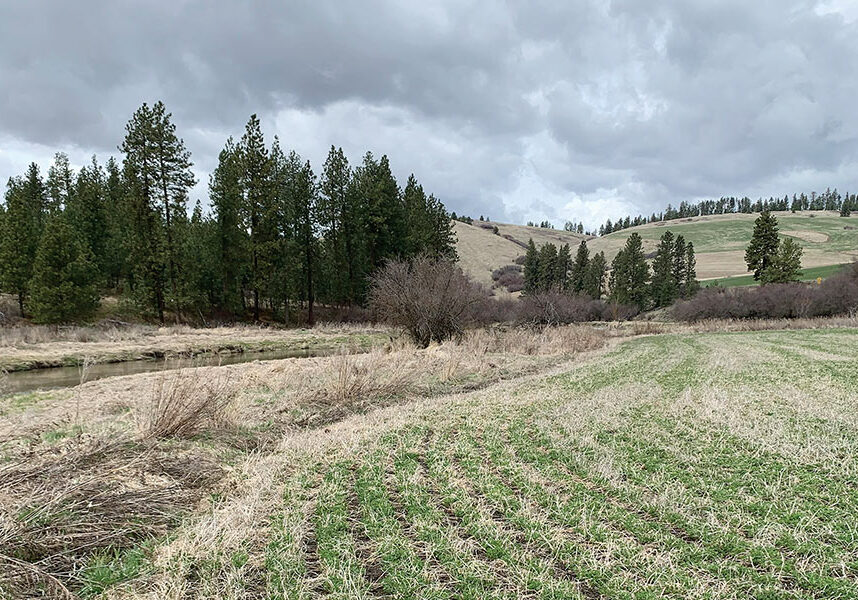 Nine farmers in the Hangman Creek Watershed are taking part in a pilot program that, if successful, has the potential to help solve a major water quality conundrum: installing riparian buffers without breaking producers' bottom lines.
The Hangman Creek Riparian Restoration and Conservation Program is funded by the Washington State Department of Ecology (Ecology) and managed by the Spokane Conservation District (SCD). The program will pay producers $300 per acre for 15 years for ground that is taken out of production and put into riparian buffers. A total of 170 acres, most on the main stem of Hangman Creek, have been contracted. The program will cost approximately $2.7 million, which includes the payments to producers, the initial plantings, replantings, monitoring, and five years of maintenance.
"It's very similar to continuous CRP (Conservation Reserve Program) but it pays way better," said SCD Water Resources Manager Walt Edelen who is in charge of the program.
The buffer widths are based on site potential tree height (SPTH). The minimum buffer size is 50% of the SPTH, and the maximum they can get paid for is 100%. The buffers will be planted with trees and shrubs, and the SCD will hire crews to take care of weeds and water the plants as best they can. In certain areas, especially those areas that were farmed, the land will be planted to native grasses for a year before woody plants are introduced. In some cases, the SCD will pay the landowners to seed or to take care of weeds.
"Some of the sites are fairly remote, and it's difficult to get to the other side of the creek," Edelen explained. "Hangman is such a difficult system to get things to grow in. We know we will have to replant. We know we will have to deal with predators, deal with predation on plants. We've got to deal with beaver, deer, heat, and just the lack of water. It has its challenges for sure."
The goals of the program are threefold: address potential temperature, sediment, and nutrient issues as flagged by Ecology; restore the riparian zone; and reimburse producers for the land that is taken out of production.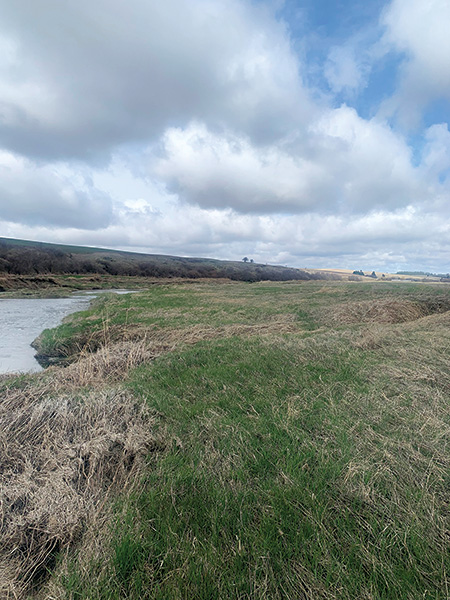 "Mature riparian areas are going to provide lots of things, including shade. It's going to provide habitat. It's going to provide stability to the channel. One thing that's missing in Hangman Creek is large woody debris. It's all gone," Edelen said, adding that installing riparian buffers is a long-term fix, and it could be at least 10 years before results are seen. "You've got to start somewhere."
Ongoing conflict
Farmers have long been under a microscope when it comes to water quality issues in the Hangman Creek Watershed. Ecology has designated the stream as a polluted body of water. When Ecology finds a potential issue, the department will generally send a contact letter asking the landowner and/or producer to contact them. If that fails, Ecology will send another contact letter and then a warning before issuing an administrative order, which can be accompanied by financial penalties. In fact, for this pilot program, one of the eligibility requirements is an Ecology contact letter. As long as producers follow their contract with the SCD, they are considered to be in compliance. Edelen said there has been some frustration from growers feeling like they are being told what they can and can't do with their land, and some producers have been more reluctant than others to participate. He hopes they'll all see the benefits of restoring the riparian zone.
"These producers are getting letters from Ecology, but they didn't like a lot of the options available to them to help mitigate the issues they might have with Ecology and come into compliance," he said. "These are good people. They are just trying to do the best they can with their land out there."
At this point, livestock ground is not eligible for the program, but Edelen hopes there will be a similar program for those producers in the future.
"There are livestock producers out there that have this same issue. They've got productive riparian areas for grazing, and if they can't graze them, they should be able to put them in a program like this as at least an option," he said.
Geologically speaking
Hangman Creek is often called "flashy," meaning it can go from a gentle stream to a raging river in a very short amount of time. Those high flows usually bring a lot of sediment with them due to the clay and silt soils of the Palouse. While environmentalists would likely like to see a year-round clear creek, Walt Edelen, Spokane Conservation District water resources manager, said that's pretty unlikely.
"(Hangman Creek) is a system, geologically, that has high sediment as well as a lot of fine sediment. Geologically, there's nothing you can do about that. There's always going to be natural erosion in a watershed," he explained. "There's obviously a lot of exacerbated erosion caused from different land uses, agriculture being one of them. But agriculture isn't totally to blame for everything up there. The stream banks, I think, are kind of underestimated as to how much sediment they are producing vs. what's coming off fields."
Hear what two farmers have to say about the program: