Where WAWG started
In 1954, wheat growers split from the state Farm Bureau to start their own organization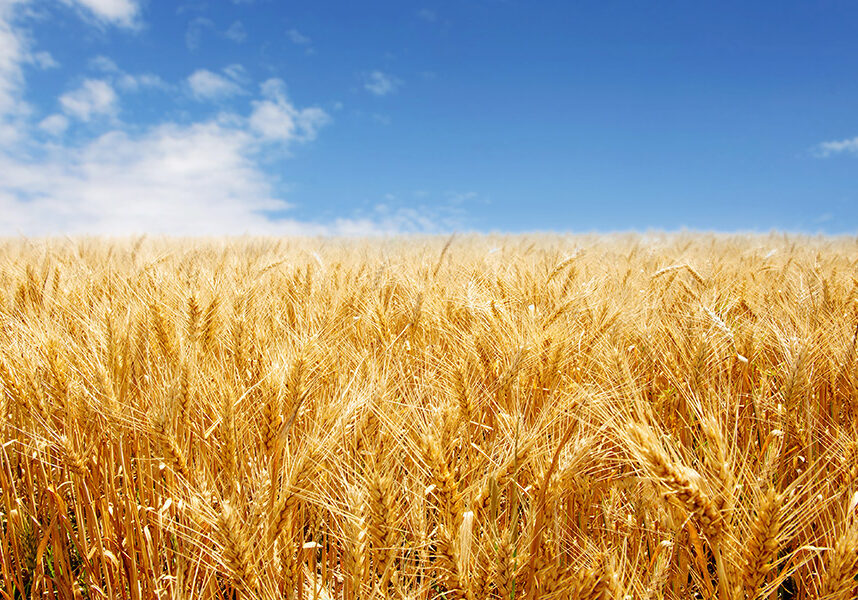 Nowadays, the Washington Association of Wheat Growers (WAWG) is the main organization dedicated to legislative advocacy for Washington wheat growers, but it wasn't always that way. Fourteen years before growers first met under the WAWG banner, it was the Washington State Farm Bureau (WSFB) that was performing those duties.
In February 1940, WSFB President Herbert F. Clark announced the formation of the Washington Wheat Growers League as a Farm Bureau affiliate that would be responsible for the WSFB's wheat program. In the announcement, Clark said the league had strong membership in Kittitas County, the Palouse and in southeast Washington grain regions. The league's immediate focus was to study the Agricultural Adjustment Act (legislation that provided price support for certain crops, along with marketing quotas to help keep supply in line with demand) and parity payments; support of caps on property taxes; study of highway and rail transportation; and backing Columbia River transportation development. In December 1941 at the annual WSFB convention, the wheat league expanded to include wheat farmers in North Idaho, renaming itself the Washington-Idaho Wheat League (WIWL).
The WIWL worked closely with the WSFB for many years, holding its annual convention immediately before the WSFB's and appearing as a partner in the editorial box of the WSFB's newsletter, the Pacific Northwest Farm Bureau News, until 1955. The two organizations even shared staff. R. D. Flaherty of Walla Walla was the managing editor and business manager of the newsletter for many years and served as secretary-treasurer of the WIWL from 1940 to 1942. By February 1954, however, wheat growers were contemplating striking out on their own. The WIWL officially disbanded in December 1954 "in an effort to resolve conflicts of interest," according to a Spokesman-Review article from that period. 
Wasting no time, wheat growers formed a new organization in Spokane on Dec. 3, 1954, and named it the Washington Association of Wheat Growers. The first elected officers were John Stephenson of Benge as president; Donald Moos of Edwall as vice president; Edgar L. Smith of St. John as second vice president; and Ken Parks of Fairfield as secretary.
At that first meeting, the group adopted resolutions that recognized the importance of the commodity-by-commodity approach in considering the problems of the group as well as the importance of cooperation with other agricultural groups. Another resolution recommended giving earnest consideration to a national multiple price system for wheat, urging 100 percent of parity for wheat used for human food domestically with the remainder to be sold for feed, seed and export at a competitive price.
The group's focus for the first year was on membership efforts and building strong county organizations.
"In our new association, every policy and every action will be born at the grassroots level," Stephenson told the Spokane Chronicle in an article on Dec. 24, 1954. "Farmers in each county will express their own opinions and the state association will take action only in accordance with the wishes of a clear majority of operating farmer-members."
WAWG's first steps to incorporation were taken in late December 1954 when a committee was formed to draw up by-laws. The committee included Archie Staley, Adams County; Charles Vollmer, Benton County; Richard Juris, Stevens County; Jake Ottmar, Lincoln County; and Dwelley Jones, Walla Walla County. The state executive board was also considering whether or not membership in the previous Washington-Idaho Wheat League should carry into the new association. Articles of incorporation were officially filed on Jan. 6, 1955, in Olympia, and a few days later, Stephenson announced that a full-time state WAWG office would be set up in the Old National bank building in Ritzville.
The effort to organize the counties got off the ground immediately. Within two weeks of WAWG's formation, 55 Adams County growers met and organized the first county wheat growers group. According to the Spokesman-Review, more than 200 farmers attended the charter meeting of the Walla Walla County WAWG chapter on Jan. 13, 1955. Garfield, Columbia, Spokane and Lincoln counties were also organized in January (see sidebar for more information).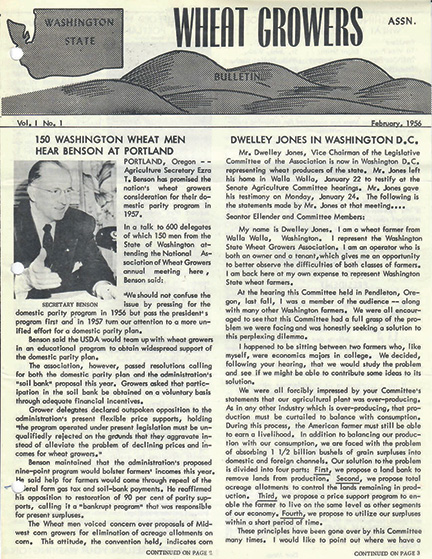 At the beginning of February 1955, Stephenson told the Spokesman-Review that he hoped that all wheat-producing counties would soon have their organization set up so a state-wide meeting could be held to formulate policy on research, markets, transportation and legislation.
"Until a general meeting of all our members is held, the Washington Association of Wheat Growers cannot endorse, support or contribute in any way to any legislation," he told the newspaper. 
By the beginning of March, growers in Franklin, Whitman, Grant and Klickitat counties had also organized, just in time for the first full membership meeting of WAWG on March 7, 1955, in Ritzville, where members voted on association policies. According to a Spokane Chronicle article, WAWG now had 2,000 members. At the state meeting, members voted to become members of the National Association of Wheat Growers. Growers also:
Called for the repeal of the Butler Amendment, which required that 50 percent of the surplus commodities going into foreign trade under the disposal law must be carried in American ships.
Recommended to Congress that the price of wheat for 1956 should be set at least the same as in 1955.
Favored passage of the reciprocal trade agreement act.
Resolved to promote the use of Pacific Northwest wheat and wheat products for animal feed.

 
Around the middle of 1955, the WAWG executive committee voted to recommend the establishment of a wheat commission financed by assessments on all wheat grown east of the Cascades (the Washington Grain Commission would be established in 1958). In July 1955, Ivan Packard of Ritzville was hired full-time as the executive secretary of WAWG.
The association continued to grow throughout 1955. On Dec. 12, it held its first annual convention in Spokane. During the two-day event, members held committee meetings, attended business sessions to hear reports of officers and committees, and acted on resolutions. Members also elected a new slate of officers for the coming year. Don Moos of Edwall replaced Stephenson as president. Edgar Smith of St. John became vice president; Emmett Burrow of Walla Walla became second vice president and Otto Amen of Ritzville became treasurer. 
In February of 1956, WAWG began publication of a limited-circulation newsletter, the Wheat Growers Association Bulletin. The first two issues were four pages long with no advertising. By the third issue, however, things changed. In his president's column, Moos said, "Our last News Bulletin brought such favorable response from our readers, members and new members, that we have decided to extend our circulation to include all the wheat growers of the state. It is our goal to present a policy beneficial to all Washington wheat producers, and we, therefore, think it only right that news of our activities should be sent to all of you. To defray the expenses of this increased circulation, we have incorporated paid advertising, and I want to take this opportunity to thank our advertisers for their support."
Sixty-six years later, WAWG is still going strong. There are county wheat growers associations in 13 Eastern Washington counties: Adams, Asotin, Benton, Columbia, Douglas, Franklin, Garfield, Grant, Lincoln, Spokane, Yakima/Klickitat, Walla Walla and Whitman counties. Membership has fallen to about 1,700 since WAWG's incorporation, mainly due to the consolidation of farms. The News Bulletin has morphed into Wheat Life, and growers still gather in the winter for the annual convention (although these days Washington growers are joined by Idaho and Oregon growers).
County growers organize
With the December 1954 formation of the state wheat growers association, county groups weren't far behind. According to newspaper archives, these counties quickly started to organize:
Adams County, Dec. 15, 1954: H. J. Holiday of Benge was elected county president with C. W. Eckhardt, Ritzville, as vice president; R. J. Martin of Ritzville as secretary; and Otto Amen, Ritzville, as treasurer.
Walla Walla County, Jan. 13, 1955: Dwelley Jones, Walla Walla, was elected president; Jack Schnell, Eureka, was chosen as vice president; Ernest Cowell as second vice president; and Ray Small, Lowden, as secretary-treasurer.
Garfield County, Jan. 26, 1955: No further information found.
Columbia County, Jan. 27, 1955: No further information found.
Spokane County, Jan. 28, 1955: Kenneth Parks, Fairfield, was elected president. He was joined by Milton Wolf, Latah, as vice president; Milton Lehn, Espanola, as second vice president; and Floyd Simpson, Cheney, as secretary-treasurer.
Lincoln County, Jan. 31, 1955: Keith Carlson, Edwall, as president; Gilbert Lybecker, Harrington, as vice president; Hale Simpson, Edwall, as second vice president; and Orrie Morse, Davenport, as secretary-treasurer.
Franklin County, Feb. 7, 1955: Frank Hart, president; Hal Hockett, vice president; Floyd Hudlow, second vice president; and Dennis Herron, secretary-treasurer.
Whitman County, Feb. 16, 1955: Elmer Huntley, Thornton, as president. No further information was found.
Benton County, Feb. 22, 1955: Charles Vollmer, president; Harold Easley, vice president; Allen Deffenbaugh, second vice president; and Glen Bayne, secretary-treasurer.
Grant County, Feb. 28, 1955: John Timm, Almira, as president; Chris Mordhorst, Wilson Creek, as vice president; Russell Higginbotham, Hartline, as second vice president; and Laurence Dormaier, Hartline, as secretary-treasurer.
Klickitat County, March 2, 1955: No further information was found.
Asotin County, March 25, 1955: Carl Ausman, Asotin, as president; S. T. Hanson, Clarkston, as vice president; Steve Black, Asotin, second vice president; and Archie Claassen, Clarkston, as secretary-treasurer.
Douglas County, March 31, 1955: No further information was found.
Okanogan County, April 12, 1955: John Goldmark, president. No further information was found.
Stevens County, organization meeting planned for May 17, 1955: No further information was found.
Sources:
"Washington State Farm Bureau," by Trista Crossley, historylink.org/File/21183
Archives of the Spokesman-Review, the Spokane Chronicle, the Daily Sun-News and the Tri-City Herald, all accessed via newspapers.com.