Coffee-roasting business brews success on Harrington wheat farm
Shelly Quigley, Roam Roasters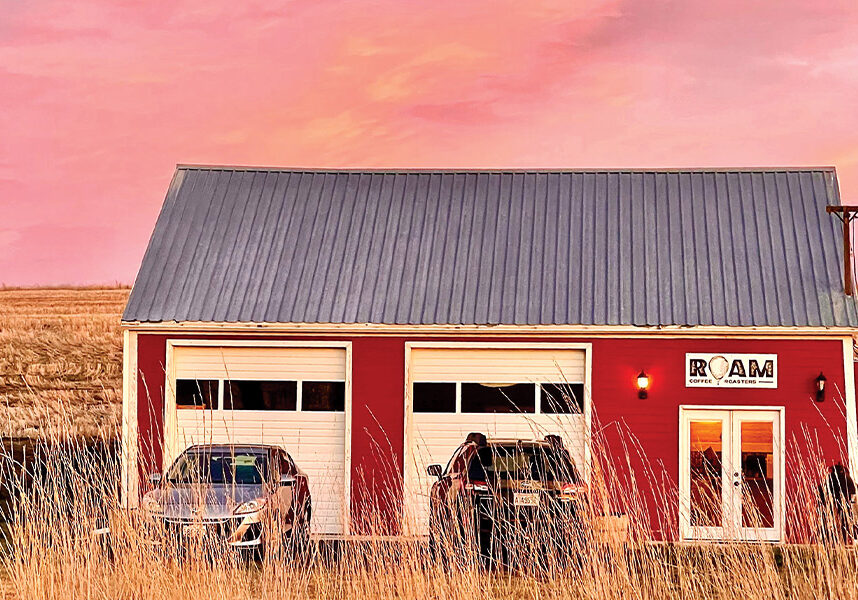 When one thinks of Pacific Northwest agriculture, wheat, small grains, wine or apples are mainly what comes to mind. There may be a couple of other crops that pop into your head, but I'm sure you've never thought of coffee, which doesn't grow in this region. But local farmer Shelley Quigley has found the closest thing to producing it as she can get.
Quigley is a fifth-generation farmer who resides outside of Harrington, Wash., with her husband, Aaron, and their one-year-old son. The family raises dryland wheat. Quigley grew up helping on the farm while attending school in Harrington. Women in agriculture isn't a new concept to Quigley—her mother operated the farm, and her father worked in the medical field. However, Quigley dreamed about combining two of her favorite things: family farming and a good cup of coffee.
Coffee has always been a passion of Quigley's, and after experimenting with home roasting, she decided to develop a bigger operation that not only provided a delicious cup of coffee but also to gain support for farmers by showing more people how family farms operate. Quigley and her husband opened Roam Roasters in 2019, in a newly remodeled, 85-year-old building on the family's farm. They can roast up to 25 pounds of coffee at a time, and each batch takes anywhere from 11 to 14 minutes. Roam Roasters supplies the local coffee shop in Harrington, "The Post & Office," as well as having their own shop in Medical Lake. The company generally makes "flavored focused roasts," which are referred to as Nordic-style roasts and aren't as dark as roasts found at other popular chains.
The Medical Lake coffee shop was something the company hadn't planned on adding to their business until it collaborated with Davenport High School's FBLA team on a project called Partner with a Business. The FBLA team worked with Roam Roasters during the spring of 2021, quadrupling the business's local wholesale partners, as well as learning the ins and outs of coffee roasting. During the course of their teamwork, one of the team members reached out to Gerri Johnson, the owner of Farm Salvation in Medical Lake, who had an interest in making a custom blend that she now carries. After many conversations with Johnson and Quigley's husband, Roam Roasters decided to jump in and open Roam Coffee House in the Cornerstone building Johnson owns in hopes of connecting to more customers on a faster timeline. The shop opened in July 2021.
"It just sort of took off from there. We saw a great opportunity to get out there in the community," Quigley said.
While coffee isn't considered a locally grown crop, Quigley's goal was to demonstrate that just like wheat, there is still a quality to coffee making that entails everything from the ground it's grown in to how the beans are roasted, similar to how wheat becomes a product for consumers.
"Some people take coffee for granted and forget that it doesn't just magically appear on the table, the same way people who don't farm view other food items, like pastries," she said.
Eastern Washington wheat farmers are known for their quality crop, and Quigley believes coffee is no different.
"There are people who care about the quality of coffee they are growing just like there are people who care about the quality of wheat they are growing," she said.
Roam Roasters imports coffee beans from Guatemala, Brazil, Colombia, Papua New Guinea, Zambia and other places for more seasonal roasts. Quigley's husband does the design work for the company, and Quigley does all roasting, packaging and delivering, which ensures quality products straight to consumers.
The roastery does more than just roast coffee. It was seen as a much bigger opportunity for education and exposure to different farming practices, as well as insights into family farming for those who haven't been raised in it. Running a small family farm takes a village, but that's the beauty of it, something Quigley and her family never take for granted.
"There are still a lot of people who have never been to a farm, so we saw an opportunity to show the reality of family farming. What goes better with coffee then pastries made from wheat? The roastery felt like an opportunity to bring people out to our farm and have them see the family farm aspect that most people don't see," she said.
The roastery gives tours, tastings and hosts events where consumers can roast their own coffee beans to take home. Quigley uses these events to educate people about coffee, while at the same time, educating them about farming.
"We want to encourage our customers to support the farmers in their region, especially when it comes to sustainable farming practices."
The motto, "farmers supporting farmers," is something that has inspired the Quigley family, and they want to grow their presence in the community as the business grows. In 2020, Roam Roasters partnered with the Washington State Farm Bureau to create a Centennial Blend coffee that helped celebrate the Farm Bureau's 100th year and raised money for the Farm Bureau's efforts to support and represent farmers all across the state. Roam Coffee House was also named the 2021 Medical Lake Business of the Year.
For more details about Roam Roasters, visit roamroasters.coffee.