Leaving a legacy
Recently rediscovered photos, article demonstrate family's ties to Eastern Washington heritage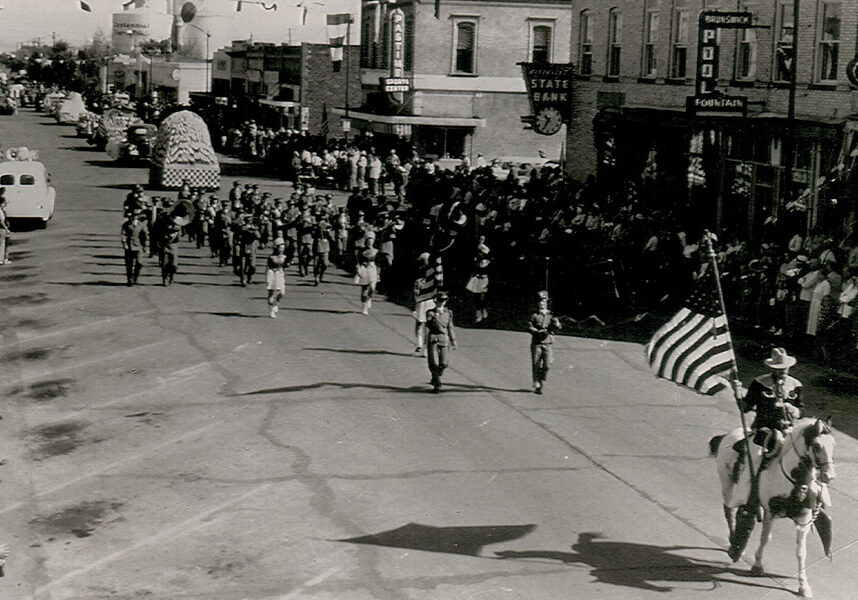 Janet Walthew may live on the west side of the state, but her family's legacy in Adams County runs deep as they continue to own and lease out the family's fourth-generation dryland wheat farm. Recently, she came across photos of her grandfather, Henry Bauer, along with an article published after his death in the Ritzville Journal-Times. The photos, likely taken in the late 1940s or early 1950s, show Bauer leading the Adams County Fair parade through a thriving downtown Ritzville. Walthew said her grandfather was parade marshal for decades, and at 6'4", cut a dashing figure on his beloved Belgian horses.
As a small child, Bauer came west with his family in a covered wagon train. The article talks about that journey and Bauer's life as a wheat farmer, giving readers a glimpse of a life nearly 70 years gone. Here's the article, which was originally published on Nov. 24, 1955:
The death last Thursday of Henry J. Bauer, 76-year-old Ritzville pioneer, apparently reduced to six the number of survivors of a historic covered caravan, which brought 17 Russian-German families westward in 1883.
Within a year or two after their arrival in Walla Walla, most of these families had homesteaded in the Ritzville area, and today, their descendants—many of them the Rosenoffs, Thiels, Kanzlers, Amens, Millers, Kiehns, Wolsborns and Bauers—form a paramount population group in this area.
The Journal-Times this week conducted a survey and found apparently there are only six persons still living who—as five small boys and a 3-year-old girl—traveled westward with the caravan of 1883.
The survivors are Mike Thiel, father of Lawrence Thiel; Mrs. Mike Thiel, the former Mary Kanzler; J. J. Schoesler, father of Elmer Schoesler who operates Henry Bauer's ranch; Henry Schoessler, father of Mayor H. E. Schoessler; Pete Bauer, Henry Bauer's older brother; and Jacob Rosenoff, who lives in Pullman.
The covered wagon train left Nebraska under the leadership of Frederick Rosenoff to follow the Old Oregon Trail across the Plains.
The group never traveled Sundays, but drew their wagons into a circle and posted lookouts while the rest listened to an elder read church services in German.
Their overland trip was marked by hardship and a constant vigilance for Indians. The Battle of the Little Big Horn had occurred only seven years earlier.
The train reached Walla Walla safely. Some families proceeded immediately to homestead in the Ritzville area. Others worked at Walla Walla two or three years before joining their friends near Ritzville.
Henry Bauer died on the same Ritzville area farm his parents, Jacob and Elizabeth Bauer, had occupied when they reached Ritzville following the 1883 covered wagon journey.
Pete Bauer recalled a few years ago how 11 of their 12 chickens were devoured by coyotes the first night they stayed on their new farm. Later that fall, all the family's horses disappeared. They were found the following spring near Paha, about 10 miles from home.
Jacob Bauer raised 13 acres of wheat the first year, 28 acres the second and more than 100 acres the third.
Through his life, Henry Bauer was a lover of horses. In 1916 or 1917, he began breeding his own Belgian workhorses, and by the 1930s, he had developed a prime herd of more than 40 animals. Some weighed a ton, and one of his best breeding stallions weighed 2,400 pounds.
Bauer was reluctant to give up horses in the face of increasing mechanization, and according to Elmer Schoesler, who has operated the Bauer ranch for the past 10 years, might not even have "gone tractor" in the early 1940s had it not become so difficult to hire labor familiar with workhorses.
When a Belgian became too old to work, Bauer always retired him to pasture rather than disposing of him. Today, one of Bauer's Belgians still survives, a 27-year-old mare named "Laura," and Schoesler made it clear this week Laura will be well treated until she dies, as Henry Bauer would have wished it.
Bauer, who had been five years old when his family crossed the Plains, had an inventive mind. About 1918, he devised a straw picker. Pulled by four horses, it gathered up loose straw while a gasoline motor ran the straw up an elevator into an accompanying wagon…so pitchforking was virtually eliminated.
Bauer applied for a patent on his straw picker, though the machine never went into production, but he used it himself for years. W. G. Danekas, another Ritzville pioneer and a neighbor of Bauer's, recalled this week how the straw picker once achieved the remarkable record of clearing half a section at Mike Thiels' farm in a single day.
Bauer also devised a series of sprockets and chains to operate a harvester reel from one of the harvester's wheels, so the reel would slow down or speed up depending on the harvester's speed.
Bauer was widely known as the traditional marshal for the Adams County Fair parade, and until three years ago, he usually accompanied the state cattlemen's association on their annual cross-country ride to the state convention.
Originally published on Nov. 24, 1955, in the Ritzville Journal-Times. Republished with permission from the Ritzville Adams County Journal.