Nestled among rolling hills in Lincoln County, Harrington, Wash., is a town with a small population but surprising momentum. Turn-of-the-century buildings are in the process of being renovated, including the Electric Hotel and the former U.S. Bank building. Local businesses line the main street — you can buy a pair of jeans, get coffee, play a round of golf, and have lunch afterwards, all within a few blocks.
One of Harrington's most charming features are the ghost murals — advertisements originally painted directly onto the red bricks of downtown buildings. Ghost murals are not unique to Harrington; they are common on small town main streets and urban historic downtowns. Many of Harrington's ghost murals harken back to the town's agricultural roots, advertising farm equipment manufactured by Caterpillar and John Deere. Just over 400 residents call Harrington home, and one of those is Gavin Wagner. Known locally for his artistic ability, Wagner has restored several of the faded building advertisements in downtown Harrington.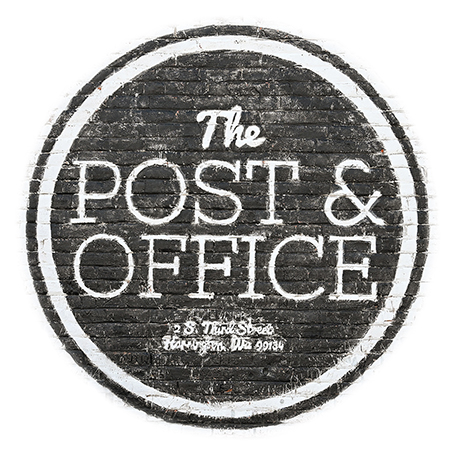 Wagner's interest in art began at an early age. His mom observed him drawing a unique type of smiley faces at the age of two. She encouraged him to hone his natural ability, gave him the tools to keep creating, and enrolled him in art classes. Wagner credits his interest in comic books, rather than formal classes, though, as strongly influencing his artistic style. Jim Lee and Todd McFarlane remain two of his favorite comic book illustrators — both are known for boldly drawn, incredibly detailed work. Wagner prefers to draw his own comics in black and white rather than in color and focuses on illustrating instead of writing dialog.
Wagner found another source of inspiration while spending time with his dad showing a 1928 Ford Sport Coupe at car shows in the late 1980s and 90s. It was at these shows that Gavin was first introduced to "Kustom Kulture." Kustom Kulture epitomizes the artwork and style of hot rod culture from the 1950s, 60s and 70s. Ed "Big Daddy" Roth was a nationally known custom car builder and illustrator who created a cartoon rat called Rat Fink. Rat Fink is usually portrayed in vibrant green, with bulging eyes and a mouth full of jagged teeth. Wagner enjoyed drawing Rat Fink and other hot rod-inspired characters created by Roth. Wagner has a lot of affection for the character to this day; one of his current personal projects is restoring a cast iron statue of Rat Fink.
Growing up, Wagner spent much of his time living in Spokane with his mother, but returned to Harrington to finish high school. In the 90s, while sports dominated small town high schools, Wagner continued to prioritize his artwork. He designed a comic book-inspired falcon as the mascot for the Sprague-Harrington Falcons. Wagner's falcon had defined muscles and a determined expression and was adopted as a symbol for the now-disbanded athletic co-op.
After high school, Wagner attended Spokane Falls Community College and went on to study graphic design in Tempe, Ariz. In addition to graphic design, Wagner began experimenting with painting in 2013. He accepted a few commissions to create murals for businesses, including gyms, a restaurant and a diesel truck parts company.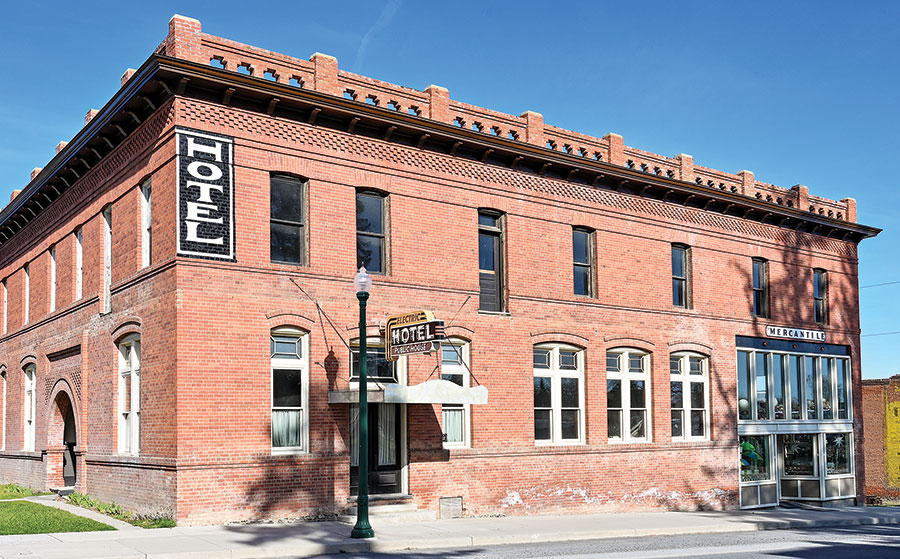 "Ever since I was a teenager, I wanted to illustrate comic books," Wagner said. "My style imitated the comic book greats that I looked up to and wanted to be. I'd say that some time in my 30s, I started trying to be more diverse in the work I was doing. I started using brushes and paints and working on canvases and incorporating welding and old barn wood to build signs. That turned into to painting murals on walls and buildings. The stuff I do now seems to appeal to the masses, whereas I still do the comic book stuff for the love of the art."
When his brother, Travis, decided to return to Harrington and the family farm, Wagner found himself drawn back as well. The brothers are third generation wheat farmers, practicing minimal tillage on their farm ground. Over the years, they have learned to divide the labor based on their strengths. Of his brother, Wagner said, "He's my brother, my business partner and my friend. I can't imagine working with anyone else."
In 2016, Wagner met his future wife, Kayla, who was teaching in Moses Lake. They dated long distance until she decided to move in with Wagner in Harrington. They married in 2018 and after commuting to Moses Lake until 2019, Kayla took an elementary school teaching job with the Davenport School District. They've remodeled Wagner's grandparents' house together, giving it a comfortable, modern update.
While agriculture hasn't directly inspired Wagner's work, the seasonal aspect of wheat farming allows him time to continue pursuing creative projects.
"All my life, I've drawn, painted, built and created one-of-a-kind pieces of art for the people who have meant the most to me," he said. "It just makes me feel good when someone says to me, 'Hey! I still have that drawing you did for me way back when. I framed it, and I look at it every day.' If they've kept something that I did for them all this time, then that's a pretty great feeling. For me, that's priceless."
Wagner has restored the Caterpillar advertisement on the front face of the Harrington City Hall building, the Ford and Goodyear murals on the Studebaker Garage, and the bold, black and white "hotel" on the front and side of the Electric Hotel.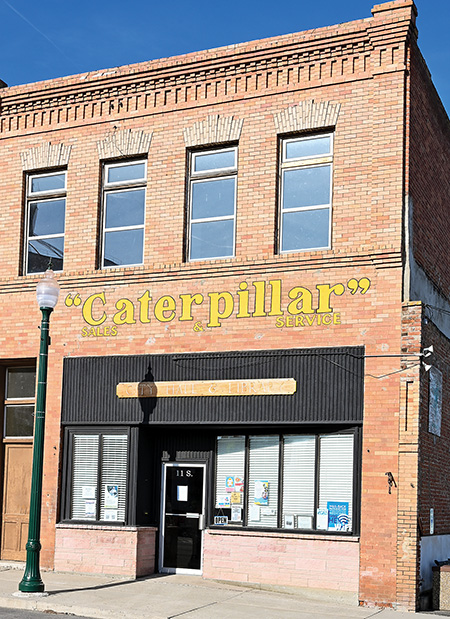 Wagner's process begins in Adobe Photoshop, where he creates the initial design. After his client approves the artwork, Wagner uses a laptop and a projector to paint the outline of the design onto the building, usually at night. Wagner uses a brand of paint specifically designed for outdoor sign painting. The oil-based enamel provides the durability and adhesion necessary for the longevity of the painting and comes in a vibrant range of colors. The time Wagner needs to complete restoration depends on the intricacy of the artwork and the weather.
Wagner has also created logos and signage for newer businesses in town, including the Post & Office coffee shop and The Mercantile. The Post & Office's round, black and white logo is reminiscent of an old fashioned postmark, a nod to their building's origins and to owner Heather Slack's affinity for Harrington's history. The Post & Office's sign is painted low on the building, close to the sidewalk and often functions as an outdoor photo booth.
The signage for The Mercantile presented some extra challenges because of that shop's location in the storefront of the Electric Hotel. The Electric Hotel is on the National Register of Historic Buildings, and the building owners, Jerry and Karen Allen, wanted to exercise caution with painting directly on the building over the storefront. Wagner decided to create The Mercantile's sign on a narrow piece of metal that would fit above the upper storefront windows. Using metalworking equipment in his farm shop, Wagner rounded the edges of the sign and prepared the back side for mounting to the brickwork of the hotel. For this project, Wagner used automotive paint because of the metal substrate. The wide-spaced, sanserif font was chosen by The Mercantile owner, Julia Jacobsen.
Of his ghost mural restorations and advertisements for the viable businesses of downtown Harrington, Wagner said, "Art is sort of my legacy. These signs will be around forever."