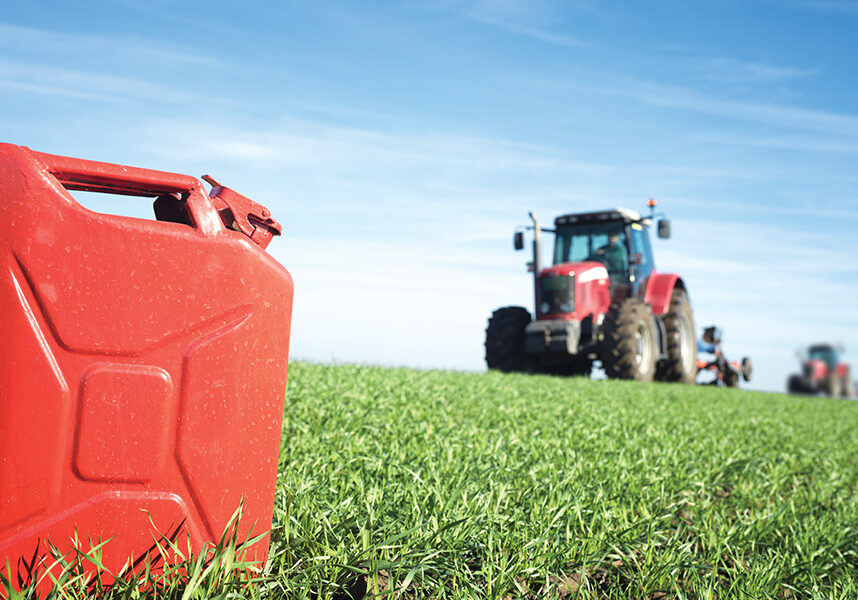 Most Washingtonians are feeling some pain at the pump, but many growers are seeing red, as their on-farm fuel bills are costing thousands more than they should. The culprit is legislation, passed in 2021 and put into action in January 2023, that promised to exempt fuel used on the farm and in transporting farm products to market. That promise wasn't kept, and growers were left holding the bill while fuel suppliers, legislators and state agencies pointed the finger elsewhere.
The Washington State Legislature passed the Climate Commitment Act in 2021, which established a cap and invest program (also referred to as a cap and trade program). The cap and invest program requires covered entities that met a certain threshold, including many fuel suppliers, to purchase allowances equal to their greenhouse gas emissions. The legislation exempted emissions in certain situations, including watercraft or maritime fuels combusted outside of Washington, emissions from fuels used in agricultural operations, emissions from fuels used to transport agricultural products to market on public highways, and aviation fuel. The cap and invest program went into effect in January 2023. Almost immediately, fuel suppliers began tacking on a fuel surcharge in preparation for their allowance purchases — a surcharge that is being passed to consumers.
"The law clearly states growers shouldn't be paying a surcharge for fuel used on their farms, but when the law went into effect, there was no practical way to put that exemption into practice," explained Michelle Hennings, executive director of the Washington Association of Wheat Growers (WAWG). "Most fuel suppliers are selling to distributors who then sell the fuel to growers. Without that direct line of sight, there is no way for the fuel supplier to know where the fuel is going. It quickly became apparent that the state was less interested in fixing this problem than passing the responsibility off to others."
Andy Juris, WAWG president and a grower from Klickitat County, estimates the fuel surcharges will cost his operation an additional $11,000 this year. Other wheat farmers are reporting similar amounts.
"As a farmer, it is extremely frustrating to see state agencies and legislators who championed this legislation now react with complacency and apathy when it comes to enacting the exemptions clearly written into the law," he said.
The Washington State Department of Ecology (Ecology) is the state agency responsible for implementing and managing the cap and invest program. They are also tasked with determining a method for exempting fuels used to transport ag products on public highways for the next five years. According to Luke Martland, Ecology's Climate Commitment Act implementation manager, through rulemaking and training, fuel suppliers are aware there is no compliance obligation for emissions from exempt fuels.
"We do not think fuel suppliers should be imposing surcharges for those fuels because they do not have a compliance obligation on those fuels. This is what we've always said," Martland explained. "We've always been clear that there's a requirement that they report all their emissions, including those that are exempt, but there's no compliance obligation for fuels that are exempt, and therefore, we don't understand why they are imposing surcharges because they don't have a compliance obligation."
In January, Ecology published interim guidance for tracking and documenting exempt fuels, but many in the ag industry felt Ecology was missing the point, specifically that many fuel suppliers didn't have the line of sight to know where their fuel was being used. Martland acknowledged that line of sight is an issue, especially when fuel distributors are the middlemen, but said Ecology has tried to work with fuel suppliers and given them suggestions and tools to use.
"It's up to the fuel supplier, though, under the law, to figure that out because they have a responsibility to report their fuels accurately, which means those fuels that are exempt," he said. "We tried to give them tools. We understand it may be more complex, but it's up to them, under the law, to track those fuels, those emissions, designate whether they are exempt or not, and document them."
Martland does acknowledge Ecology's responsibility in implementing an exemption mechanism for fuels that are used in the transportation of agricultural products on public highways. The department has expanded that definition to include barging on the Columbia-Snake River System. Ecology will likely assemble a workgroup over the summer to work with stakeholders and "figure a way forward."
The agricultural industry worked throughout the 2023 Legislative Session to try to find a fix for the issue. Rep. Joe Schmick (R-Colfax) introduced legislation that would have required the state to reimburse growers monthly for carbon fees paid on exempt fuel. It was referred to the House Environment and Energy Committee but failed to pass.
In April, Sen. Mark Mullet (D-Issaquah) introduced a bill that created a rebate fund for farmers who had paid a carbon fee on fuel. WAWG was opposed to the bill as there were a number of issues with it. Rebates would not have been available until 2024, the bill didn't specify when the rebates had to be issued, and the rebate amount would be based on a percentage of the auction price at the time the fuel was purchased, not the actual amount of the surcharge. The bill would have also prohibited fuel suppliers and distributors from disclosing the amount of the carbon surcharge on fuel invoices. The legislation received widespread opposition from many quarters, including exempt fuel users, fuel suppliers, Ecology and the Governor's Office. As a result, the scheduled public hearing on the bill was cancelled.
One of the reasons the rebate idea has proved unpopular with the administration and legislators, according to Martland, is because the fuel surcharge money isn't going to the state or to the department.
"The folks that have the money from surcharges on exempt fuels are the fuel suppliers. They are charging more, even though they don't have a compliance obligation. They are pocketing that money. They have the surcharges. The state doesn't. Ecology doesn't. It is up to them to comply with the law and not be imposing surcharges on exempt fuels. We have done everything we can to work with them to make that clear," Martland said.
The legislative session ended in April with no clear resolution to the issue. While some fuel suppliers and distributors, such as BP, Christensen and Connell Oil, have implemented steps to exempt agricultural users, there is still no industry-wide solution. Growers are being encouraged to keep all fuel receipts while the ag industry, including WAWG, continues to work to find a solution.