Spokane's 'truck whisperer'
Marc Lange, Class 8 Trucks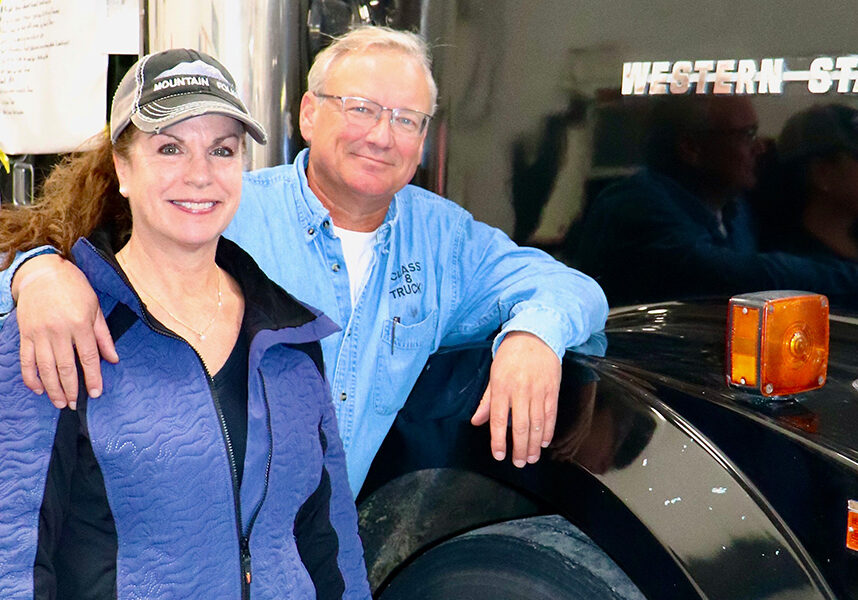 What do you get when you put together more than 150 years of experience in truck sales, service and maintenance? You get Class 8 Trucks in Spokane, Wash.
Owner Marc Lange grew up on a wheat and cattle ranch near Garfield in Whitman County. He had the background and experience of working with trucks and other farm equipment as a youth. Experience like that simply can't be replaced.
After high school, Lange earned a double major in agronomy and education from Washington State University, completing his studies in 1985. Before discovering that he was meant to have a career in truck sales, Lange was first employed as a teacher in the Rosalia School District.
"I felt right at home teaching in a farming community," recalled Lange. "I was also still involved with the family farm."
The farm is still in the family, now being operated by his brothers, Frank and David, following the retirement of their parents, Burgess and Maxine Lange, who instilled the values that Lange holds dear.
Ironically, Lange's entry into the truck sales business was unplanned. Lange needed to temporarily acquire a dump truck for some projects and found the unit he was looking for in Spokane at Gary Evans Truck & Trailer. When he later returned the truck, Evans offered to teach him the truck sales business, if he was interested. Lange thanked Evans for the offer, and that was that. However, the seed had been planted, and less than a year later, Lange was back in Spokane learning all about truck sales from Evans, who was eager to share his decades of knowledge and experience.
Eventually, Class 8 Trucks, owned and operated by Lange, opened for business in 1997 about the time Evans retired. Evans decided he was bored sitting at home and joined Class 8's sales team. Along with Butch Johnson, their three-man team stayed together for many years until Johnson retired. Another key employee, Sandy Brydges, also retired. She served as the company comptroller for 25 years.
Surprisingly, Evans, now in his mid-80s, still comes in on Fridays and Saturdays. Over the years, Jeff Miller and Scott Lund have been wonderful additions to Class 8 and its customers.
"Jeff is a consummate professional with trucks, and Scott is to trailers what Jeff is to trucks," said Lange. "Scott has an amazing knowledge of trailers, with more than 40 years of experience. We are so fortunate to have such a great team.
"I got into the truck business because I enjoy the people and the trucks. We have been successful filling a niche market. We always look for trucks that have special value, either for their specifications, their low mileage or other factors.
"There are millions of trucks out there. The challenge is finding really good trucks. How a truck is driven and maintained determines how it will drive and handle later in its life. We look for trucks without any major problems that have been treated right. Trucks are designed to last many years with component replacements. It's not unusual to get a million plus road miles out of an engine. We have seen as high as 4 million miles on a one-owner truck.
"When a farmer buys a truck or trailer, I want it to last for a long time. We do our best, and I really appreciate our customers and our crew."
When a client comes in with a specific request or need, Class 8 can deliver the truck or trailer about one-third of the time without having to do a search. Lange figures they have about an 80 percent long-term success rate on matching up quality trucks and trailers for their customers.
Asked about changes in the industry over the years, Lange said two major ones are how the internet has changed the sales process, and how extensive pollution control regulations have decreased the efficiency and the pulling power of modern engines.
"In the past year, we've sold trucks to clients in Kansas, Missouri, Indiana, Mississippi, Iowa, Wisconsin and other states because of the internet," said Lange. "Another thing that has changed is the increased cost of shipping trucks. It can run from $3,500 to more than $5,000 to ship a truck or a trailer. Beginning in 2008, tighter emissions regulations forced engine manufacturers to design motors for emission control rather than for efficiency. The industry has paid a high price in higher maintenance costs for the modern exhaust systems."
Lange said an example of a problematic motor was the International MaxxForce engine. The idea behind the design was an understandable business decision. What looked good on paper didn't work out in reality. On the other side, excellent engines over the years were the Cummins N14 Red Top and the Detroit Diesel 12.7 Series 60 motors. They were powerful and dependable. Until they got out of the truck engine business, Caterpillar also had some great motors.
Every truck acquired by Class 8 goes through a rigorous checklist covering everything from the hub oil to the cap lights. The lights, brakes, transmission, windows, windshield wipers, heater and air conditioning systems and more are inspected and repaired as needed. All of this is then recorded both on hard copies and electronically for an accurate record of all systems on every truck.
The Class 8 shop has three truck bays for working on rigs. Many of the units look showroom new when they go out the door.
Class 8 Trucks has about a 60 to 40 percent ratio of sales to agriculture vs. commercial. A large portion of their sales are from word-of-mouth reputation and repeat buyers. They pride themselves on providing exactly what their clients need and for satisfaction after the sale.
"We have really good relationships with the truck dealers in Spokane," said Lange. "Actually, about 20 percent of our business is sales to other dealers."
The trailer component of their business has blossomed under Scott Lund's management. They provide both trailer sales and rentals. They have more than 80 rental trailers currently, for both commercial and agricultural use.
Discussing what the future holds for the trucking industry, Lange specified electric trucks.
"We attended a show that included Tesla electric truck prototypes," said Lange. "It will probably be five to 10 years before they are widely adopted, but electric trucks are coming. All of the truck manufacturers are developing them. At this time, it would only be efficient for high-density, short-haul trucking due to battery charging limitations. We know those problems will be solved to travel longer distances. Once longer hauls are possible, electric engine trucks will likely revolutionize truck shipping nationwide."
Class 8 looks forward to many more years ahead with its capable crew. Even if Lange is taking more time with family, farm life and travels.
You can find Class 8 Trucks online at class8trucksales.net.