Wheat well met
2022 event lights up winter as growers gather to celebrate industry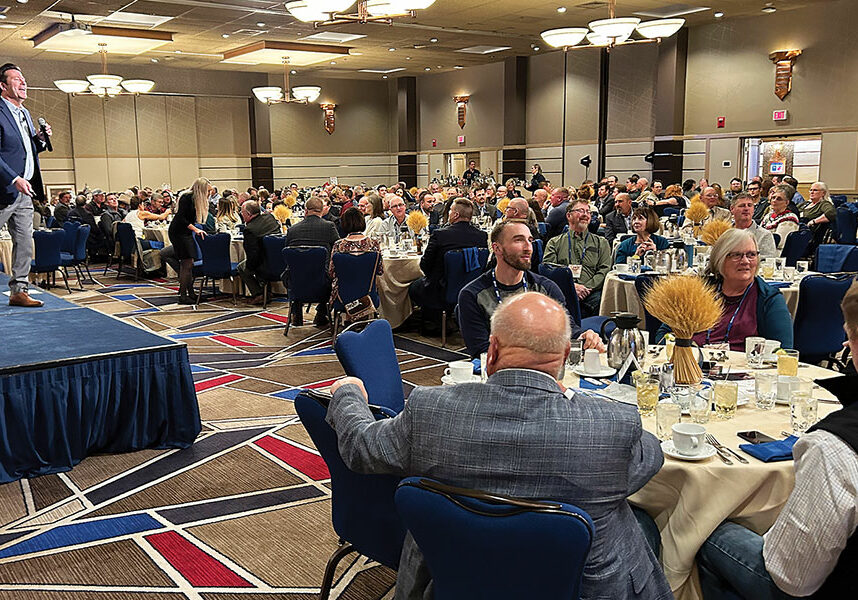 It might have been frightful outside, thanks to a massive winter storm, but inside the Coeur d'Alene Resort, all things were merry and bright as farmers, exhibitors and industry stakeholders gathered to celebrate the Pacific Northwest wheat industry at the 2022 Tri-State Grain Growers Convention.
"Despite the weather, we had one of the most well-attended conventions in years. It was a perfect way to open the holiday season, by celebrating our industry with family and friends," said Michelle Hennings, executive director of the Washington Association of Wheat Growers. "There was a huge amount of work that went into planning this event, and it wouldn't have been possible without support from the Idaho, Oregon and Washington industry groups. Staff from all three states worked incredibly long hours making sure everything ran as smoothly as possible."
Attendees gathered at the Coeur d'Alene, Idaho, resort Nov. 29-Dec. 1, 2022, to hear noted national speakers discuss the battle between foodies and farmers, address global food insecurity through innovation, and a long-term weather outlook. Industry stakeholders held panels that covered the fight over the lower Snake River dams; supply chain issues; and how global events are impacting grain prices. Comedian Scott Bloom emceed the convention.
Educational break-out sessions covered national policy issues, including the farm bill; nitrogen and sulphur fertilizer management; updates from the Natural Resources Conservation Service; updates on falling numbers research; a wheat market outlook; outlooks in climate-smart farming; taxes; and stress management.
Washington growers participated in an all-committee meeting to review and update resolutions, followed by an awards banquet. Carissa Schmitz of Washington won a free registration to the 2023 convention as winner of the photo contest.
Unlike previous years, this year's convention didn't wrap up with a last morning long-term weather forecast session. Instead, the growers closed out the event with the dinner and auction. Growers got in some early Christmas shopping during the silent and live auctions while raising funds for the three states' foundations. Former Washington FFA state president, Tucker Cool, ran the live auction, which included tickets to Shania Twain, vacation getaways and other big-ticket items. All of the auction items were donated by growers and industry supporters. Entertainment was provided by Cara Pascalar who used song parodies to celebrate the shared joys and frustrations of being involved with agriculture.
Please join us at next year's convention, which will also be at the Coeur d'Alene Resort on Nov. 14-16, 2023. The wheat organizations of Idaho, Oregon and Washington want to thank everybody who made the convention possible, especially our sponsors, industry supporters and exhibitors.
Platinum Sponsors
BASF Corporation
Idaho Grain Producers Assoc.
Northwest Farm Credit Services
Oregon Wheat Growers League
Ritzville Warehouse Company
The McGregor Company
Valley Wide Cooperative/
Valley Agronomics
Washington Grain Commission
Gold Sponsors
Anheuser-Busch
BNSF Railway
Corteva Agriscience
Molson Coors Beverage Co.
Nutrien Ag Solutions
Pro Ag Management
Silver Sponsors
Agricultural Marketing and
Management Organization
Bayer Crop Science
CliftonLarsonAllen, LLP
Coleman Oil Company
Columbia Bank
Graybeal Group, Inc.
HighLine Grain Growers, Inc.
Leffel, Otis & Warwick, P.S.
Les Schwab Tire Centers
Mid-Columbia Producers, Inc.
Morrow County Grain Growers
North Pine Ag Equipment
RDO Equipment
Rural Community Insurance Services
Syngenta
United Grain Corp.
Wilbur Ellis Company
WSU Small Grains
Industry Supporters
Albaugh
Big Bend Electric Cooperative
CoBank
Great Western Malting Co.
Itafos Conda
Mid-Columbia Insurance, Inc.
Mountain States Insurance Grp.
Northwest Grain Growers
Pacific NW Farmers Cooperative
Papé Machinery
SAIF
Shaver Transportation Co.
Simplot
State Bank Northwest
Washington State Crop Improvement Association
Wheatland Bank
Exhibitors
AGPRO Marketing & Manufacturing
Altitude Agriservice
American Family Insurance
American Radiator
Barr-Tech Compost
Big Iron Auctions
Byrnes Oil Co.
Class 8 Trucks
CliftonLarsonAllen, LLP
Coleman Oil Company
Eastman
Farm Equipment HQ
Farmland Company
FEI
Gellert/Chief
Graybeal Group, Inc.
Harvest Capital Co.
Heartland Ag Systems
LeafGuard of Spokane
Limagrain
Medius Ag
Morrow County Grain Growers
North Pine Ag Equipment
Northwest Farm Credit Services
Odessa Trading Company/
Vantage-PNW
Oregon State University Wheat
Oregonians for Food & Shelter
Pacific Intermountain Mortgage
Pacific NW Ag Network
R&H Machine, Inc.
RDO Equipment
Soilcraft, LLC
Spokane Ag Show
Texas Refinery
The McGregor Company
University of Idaho
USDA NASS
USDA RMA
Valley Wide Cooperative/Valley Agronomics
Washington Wheat Foundation
Western Insurance Associates
Western Trailer Sales Co.
WSU Extension/Farm Stress
WSU Small Grains/Washington Genetics